Tracking Progress in Massachusetts Schools: A Look at Our Data Dashboard
January 23, 2018
For the past five years, as part of our Condition of Education in the Commonwealth report, we have been tracking progress on 25 state-level indicators of school performance. We thoughtfully selected these indicators, which span the education pipeline, to provide a snapshot of where our education system is and an indication of where it's going.
This process allows us to spot trends and highlight those that need attention while holding up examples of success that can be used as examples of success. We hope our data dashboard can act as a tripwire, alerting education leaders to problems that could otherwise fall through the cracks.
While we get our data from the Massachusetts Departments of Early Education and Care, Elementary and Secondary Education, and Higher Education, among other sources, our dashboard is the only place that all these data points are compiled in one spot.
We put all this information on an interactive, user-friendly platform to provide easy access to data that covers everything from early education through college and career success. The dashboard tracks progress over time and highlights disparities in student outcomes based on several factors including income and race.
Over the past five years we've noticed substantial improvements in a number of the indicators we track.
The path to sustainable improvement has become a key focus of our work at the Rennie Center. This year, our Condition of Education Action Guide will delve into the key factors that lead to meaningful change and provide a blueprint that districts can use to make lasting improvements.
Join us on Thursday at the Omni Parker House Hotel in Boston for the release of this report and a crucial discussion on how our state can improve education for all students.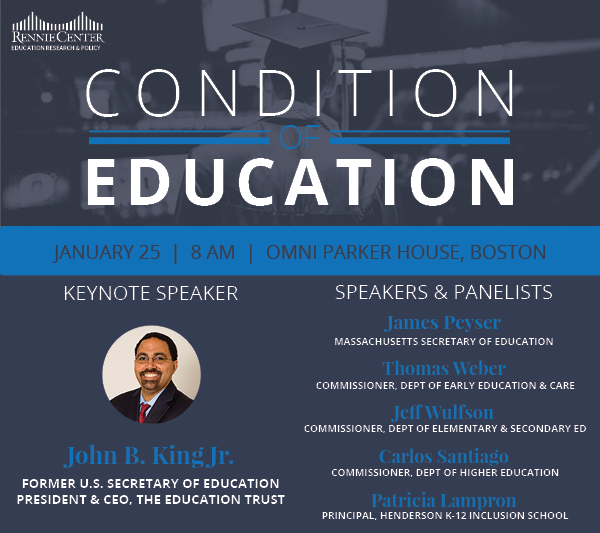 .