A Look at School on the Move Prize Winner:  Jeremiah E. Burke High School 
November 10, 2016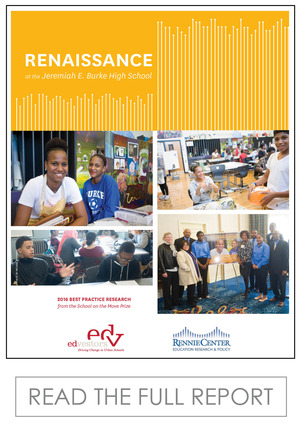 In 2010, the Jeremiah E. Burke High School in Boston was failing. With over 80 percent of their students eligible for free or reduced lunch, the Burke faced many difficult challenges – a student population dealing with the effects of poverty, community violence, trauma, and homelessness. The Dorchester school had one of the highest dropout rates in Boston, was unable to meet academic goals, and was designated by the state as underperforming. A few years later, it was the first high school in Massachusetts to exit turnaround, coming out with an award for Boston's most-improved school, EdVestors' Thomas W. Payzant School on the Move Prize.

We teamed up with EdVestors again to look closely at this remarkable school turnaround and found two major driving forces for change.

First, the school focused on the needs of the whole child, embracing the idea that schools can't help students succeed academically without addressing their non-academic needs as well. The Burke leadership team looked for the root causes of previous academic failure, finding that many of their students were impacted by trauma, poverty, and a lack of connection to appropriate social supports. To address these needs, the school made trauma-sensitive practices a cornerstone of their redesign, creating a culture where all students feel safe, welcomed, and supported. Rather than suspending or expelling students, staff now direct students to counseling and support services. School staff work hard to ensure all students have a strong relationship with at least one adult in the building. The school is supported by more than 60 community-based organizations, many of whom are embedded in daily school life. These partners offer assistance in tutoring, mentoring, college application and financial aid planning, counseling, and coordination with healthcare services.

The Burke also created new cultural norms for teachers, making drastic shifts in the way educators engage students. Through strategic hiring, clear expectations about student learning, and targeted professional development planned by the teachers themselves, the school created a culture where all educators share the mindset that student success is their responsibility. This cultural shift has empowered educators and students alike. Staff report that the school community changed from a negative, teacher-directed environment to one that is positive, student-focused, and flexible depending on student needs.

The school supported these shifts by implementing key strategies and structural supports—like grade cohort academies and block scheduling—to embed and reinforce these changes in practice. 

Many lessons can be learned from this school's story of turnaround. Their success proves that addressing the needs of the whole child does not take away from academic rigor, but instead spurs academic achievement. Please read more about the Burke's trauma-sensitive approach to education and successful efforts to change school culture in our latest case study, Renaissance at the Jeremiah E. Burke High School.