The Rennie Center's Change Management Framework (CMF) is a rigorous, structured approach to planning and implementing improvement strategies in districts and schools. The CMF highlights essential elements of improvement including identifying of a clear and actionable problem of practice; investigating the evidence base; engaging education leaders and practitioners to understand local challenges and build on-the-ground support through committed and trusting teams; and pursuing continuous, result-oriented testing to assess progress over time and take corrective action as needed. The Rennie Center's CMF is aligned with the principles of improvement science. It also includes a unique and critical aspect of Rennie's approach: an explicit emphasis on creating district cultures that embrace change. This enables districts to support structured planning processes and build local capacity to sustain work well beyond the duration of individual investments. Read more about our Change Management Framework.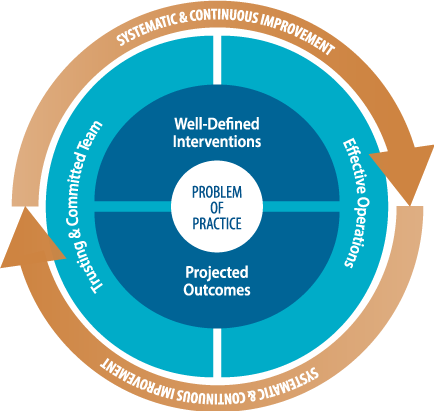 Rubrics
The following rubrics are intended to serve as project management tools to help improvement teams assess and advance the health of their projects. For each component described below, teams can determine their relative strengths and weaknesses by answering the prompting questions. The number-based scale will help calculate where your team falls on the Emerging to Excelling continuum for each component. Our specialists can help teams utilize these tools, collect data, build capacity to analyze the information and devise course corrections, and disseminate and scale findings. If you're interested in learning more please contact us.
References: The Change Management Framework has been developed and refined through both practice and research.